Phytase-5000 (Thermostable Phytase Enzymes)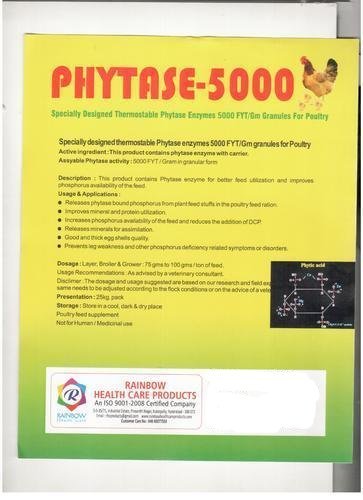 Phytase-5000 (Thermostable Phytase Enzymes)
Product Description
Phytase 5000 FYT/gm Granules
Phosphorus is the third most expensive nutrient in poultry production after energy and protein. Animal protein supplements are generally high in phosphorus, while vegetable protein supplements are low. The major portion of the phosphorus in plant feed ingredients is in the form of Phytate, the mixed salt of phytic acid (myo-inositol hexaphosphate). Phytate is found in all feedstuffs of plant origin, predominantly as magnesium-phytate complexes. Phytic acid contains about 28% phosphorus in the form of phosphoric acid. Calcium and magnesium salts of phytic acid are the phytin and are the primary storage form of phosphorus (60-90%) in plant seeds.

Features:


A next-generation Liquid Phytase that helps Poultry to utilize the organic phosphorus better, which is inadequately available through feed grains & in-feed Phytase.
Helps to improve adequate phosphorus release in poultry during phosphorus deficiencies.
Helps to prevent and control major phosphorus associated deficiencies resulting due to calcium & phosphorus absorption imbalance.
Contact Us
No. 5-5-35/71, I. E., Prasanthi Nagar, Kukatpally, Hyderabad, Telangana, 500072, India
Phone :+918045805000