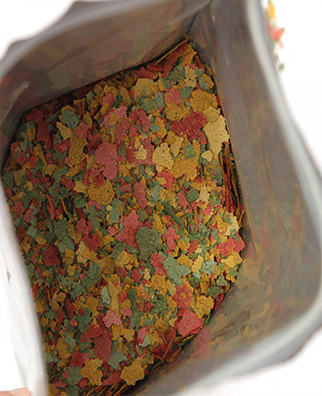 Zeolite with Probiotics
Product Code : zeo
Product Description
Zeolite Granules with Probiotics
| Composition : | |
| --- | --- |
| SiO2 | 40-60% |
| Al2O3 | 12-24% |
| Fe2O3 | 2-5% |
| CaO | 10-20% |
| MgO | 2-5% |
| Na2O | 1-2 % |
---
Cation Ion Exchange Capacity : 400 CEC /100 gms.
Uses:
Molecular Pore Structure :Crystal because of it's unique molecular pore structure absorbs toxic gases like ammonia (NH3), Hydrogen Sulphide (H,S) and other liberated anions from pond water.
Dual acting : Crystal has dual acting capabilities of nuetralizing absorbed ammonia (NH3), by ion exchanging the freeAmmonium caution.
Reduce Waste : Crystal absorbs suspended solids, refuse & filthy material.
Helps increase D.O. : Crystal Helps increase level of Dissolved Oxygen (D.O.) in the pond water.
Helps plankton growth : Crystal aids in uninhabited growth of plankton. Treated seed culture of non pathogenic soil inhibitant bacteria.
Improves water quality : Crystal by neutralizing ammonia, removes bad odor from the pond water and improves water quality.
Application :
Apply the Zeolite granules by mixing with 1 kg. of probiotics to get more results.
Dosage:
Pond Preparation : Scatter evenly, 50 Ks or more per acre of water spread area, upon the pond bottom or as advised by your aquaculture consultant.
During Culture : Broadcast evenly 25 Kgs or more per acre upon the pond water once every 20 days or as advised by yourAquaculture consultant.
Storage: Store in cool & dry place
Contact Us
No. 5-5-35/71, I. E., Prasanthi Nagar, Kukatpally, Hyderabad, Telangana, 500072, India
Phone :91-40-23071491